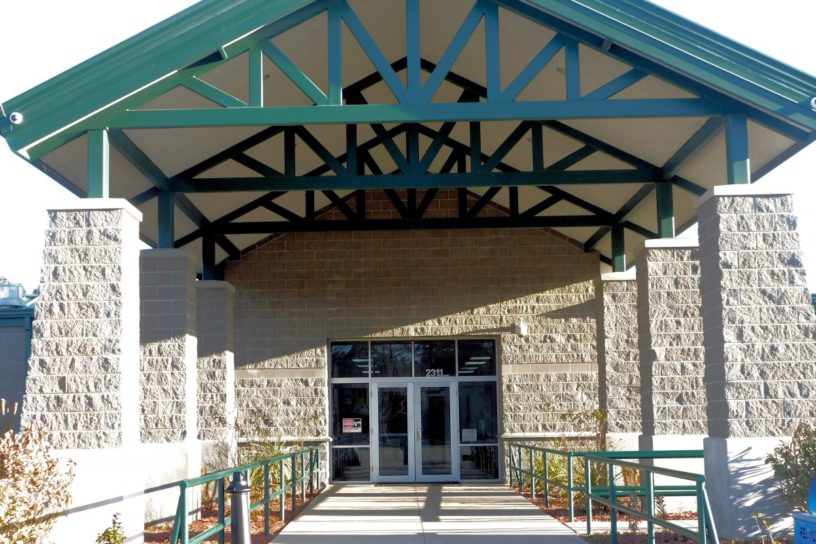 Built and opened in 2003, the Angelina County Detention Center houses a maximum of 279 inmates. The Sheriff of Angelina County is responsible for the care, custody and control of individuals who have been alleged to have committed a crime. Individuals charged with offenses ranging from Class "C" misdemeanors to Capital Murder.
The Angelina County Detention Center is located at:
Angelina County Jail
2311 E. Lufkin Ave.
Lufkin, TX 75901
For Visitation Hours and Rules click Here

---
Commissary
Various items of food, beverages, stationary items, personal hygiene articles, clothing, shoes etc., are available for purchase from the inmate commissary. Stockpiling of commissary items for resale to other inmates, for gambling or bartering purposes, is strictly forbidden. All property maintained by the inmates in their cell will be stored in a neat and orderly fashion. Inmates who violate this rule will be subject to disciplinary action. All commissary must be entered over the phone by the inmate before Tuesday 10:00 AM. Orders will be passed out on Wednesday. Indigent will be ordered by filling out an Inmate Request Form with name, S.O. #, and indigent written on the form and turned in prior Friday at 8:00 AM. To receive indigent you cannot buy anything from commissary and your balance must be less than 50. All money must be deposited into your account prior to 8:00 AM on Tuesday morning.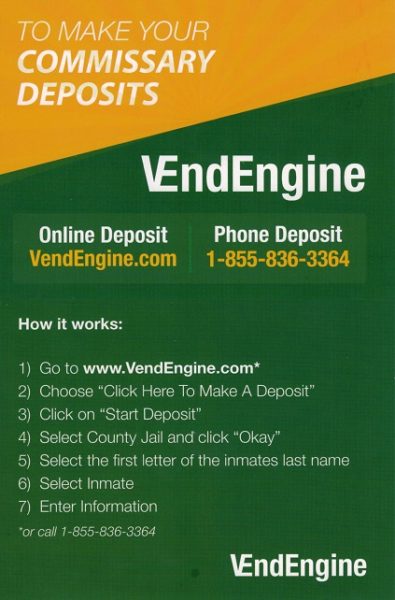 ---
Correspondence
You may write anyone as often as you wish, provided your letters do not in any way violate U.S. Postal Service regulations. To send letters, you must do the following:
show your full name (the name by which you were booked into this facility), cell designation/dorm designation, and address of the facility in the upper left corner of the envelope
show the name and complete address of the person you are writing, and
place the envelope for pick up in the morning when breakfast trays are picked up. In the dorm(s) you will five it to the dorm officer. (NOTE: The only envelopes you may seal are those addressed to officials of the Federal officials and officers, including the President of the United States; State officials and officers, including the Governor; bona fide news media and your attorney(s). All such outgoing mail which you seal must be noted by your on the envelope "LEGAL MAIL" (if sent to a court official or your attorney), "PRIVILEGED MAIL" (if sent to a Federal or State Official or bona fide news media). All outgoing mail which is not marked "privileged" or "legal" will be inspected for contraband and is subject to rejection for inflammatory writings, hard core pornography, information regarding escape plans or the manufacture of explosives, weapons, or drugs, solicits the breakdown of jail through inmate disruption, or is detrimental to inmates rehabilitation because it would encourage deviate criminal sexual behavior. Any mail rejected for a reason specified above will be placed in the property box of the inmate who sent it, and may serve as the basis for disciplinary action. Exception of Legal and Privileged mail, letters sent to you will be opened and inspected for contraband, and subsequently delivered to you. Any letter found to contain contraband will be forwarded to the Jail Administrator for the appropriate action. Money which is included with letters will be removed and deposited in your commissary account. Please advise the people who may write to you to do the following:
Show their name and address on the envelope (any letter without a return address that is not deliverable will be returned to the post office).
Show your full name (the name by which you were booked into facility).
Address the letter to you c/o: Angelina County Jail
P.O. Box 114
Lufkin, TX, 75902-0114