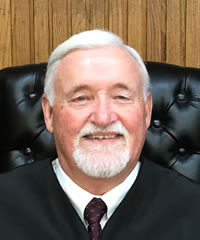 Joint and Mutual Standing Order on Children, Property, & Conduct of Parties
COVID-19 Operating Plan for the Angelina County Courts
COVID-19 Standing Order Prohibiting Electronic Recordings
The County Courts at Law have concurrent jurisdiction on all misdemeanor criminal cases and all civil cases filed in the county courts, in addition to Probate and Juvenile Court hearings. The County Courts at Law and the two State District Courts share concurrent jurisdiction over all domestic relations cases.
Mailing Address:
P. O. Box 908
Lufkin, Texas 75902
Contact:
Phone 936-639-2204
Fax 936-639-2673
Staff / Email:
Joe Lee Register

– Judge
Lana Toll – Court Coordinator
Yamileth Moreno – Criminal Coordinator
Wanda Briley – Court Reporter
Alan Poe – Court Bailiff
Fifth Amended (2020) Local Court Rules of Angelina County for the Timely and Fair Appointment of Counsel for Indigent Defendants
◊◊◊
Amended Angelina County Juvenile Indigent Defense Plan 
◊◊◊
Application to be Placed on Public Appointment List for Angelina County 
◊◊◊
If minor children are involved, Angelina County Courts strongly recommend that you consult with an attorney.
The forms located in this handbook allow for "fill-in blanks" and "check boxes". However, the Angelina County Courts require that a Decree of Divorce use standard legal language and will not accept "fill-ins" or "checks".