Mailing Address
P. O. Box 908
Lufkin, Texas 75902-0908
Contact
Phone 936-634-8731
Fax 936-634-2258
Email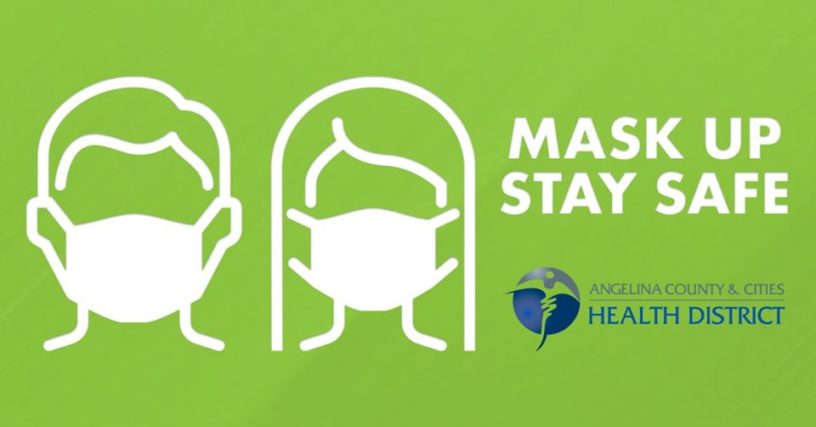 Novel Coronavirus Information
| | |
| --- | --- |
| Angelina County Stats | Updated 08/25/21 |
| Total Tests Given | 114,778 |
| Confirmed Cases | 5644 |
| Probable Cases | 4947 |
| Active Cases | 1178 |
| Recovered | 9113 |
| Hospitalized | 75 |
| Deaths | 300 |
Angelina County Rescinds Emergency Order (click to read)
Clarification of Rescinding Emergency Order (click to read)
Joint Angelina County – City of Lufkin Press Release (click to read)
COVID-19 Essential Employee Authorization Letter (Microsoft Word   PDF)
CDC Health Advisory (click to read)
Angelina County Press Release and Order 04/02/2020 (click to read)
Guidance for Houses of Worship During the COVID-19 Crisis (click to read)
Press release on Angelina County resident testing positive for Covid-19 (click to read)
Current WorldOMeters COVID-19 Coronavirus Pandemic Statistics  (click to view)
For information regarding Angelina County office closings, see our Departmental page
For information regarding the status of local restaurants, see our restaurant report.
Current Texas State Situation Report (click to read)
Angelina County Declaration Of Local Disaster (Modified) For Public Health Emergency In Angelina County (click to read)
Governor Abbott Issues Executive Orders In Accordance With Federal Guidelines To Mitigate Spread Of COVID-19 In Texas (click to read)

Childcare for First Responders Information (click to read)
To contact the ACCHD coronavirus call center, call 630-8500. The call center is open from 8 a.m. to 2 p.m. Monday-Friday. Those who are not in the ACCHD jurisdiction are asked to call the Department of State Heath Service's COVID-19 call center at (877) 570-9779.
Angelina County and the Angelina Counties and Cities Health District to ensure the safety and health of the community as the threat of Novel Coronavirus grows
Angelina County has protocols which can be quickly enacted should a threat arise in Angelina County, according to Emergency Management Coordinator Ricky Conner.
"In the event that we have cases in Lufkin, the City has made plans to ensure essential city services will continue," Director of Public Safety Gerald Williamson said.
The City's first responders are also equipped to deal with infectious diseases, but communication is key when a potentially infectious patient needs transport.
"We do ask that anyone requesting EMS with flu-like symptoms to clearly relate that information to the dispatcher," Williamson said.
Like Influenza, Coronavirus severity ranges from patient to patient. Symptoms appear from 2-14 days after exposure and include fever, cough and shortness of breath. Patients with underlying medical conditions seem to have a more difficult recovery.
The CDC is currently advising people to avoid non-essential travel to China and Iran. Italy, Hong Kong, South Korea and Japan are also under scrutiny with many cases reported.
"Anyone that travels to 'hot zone' areas, should report to their local health district and also self-quarantine with the 2-14 days exposure in mind," Conner said.
City and County Officials  also want to remind the public of additional precautions and guidelines set forth by the CDC.
•  Avoid close contact with people who are sick.
•  Avoid touching your eyes, nose, and mouth.
•  Stay home when you are sick.
•  Cover your cough or sneeze with a tissue, then throw the tissue in the trash.
•  Clean and disinfect frequently touched objects and surfaces using a regular household cleaning spray or wipe.
•  Follow CDC's recommendations for using a face mask.

 CDC does not recommend that people who are well wear a face mask to protect themselves from respiratory diseases, including COVID-19.
Facemasks should be used by people who show symptoms of COVID-19 to help prevent the spread of the disease to others. The use of facemasks is also crucial for health workers and people who are taking care of someone in close settings (at home or in a health care facility).
•  Wash your hands often with soap and water for at least 20 seconds, especially after going to the bathroom; before eating; and after blowing your nose, coughing, or sneezing.
If soap and water are not readily available, use an alcohol-based hand sanitizer with at least 60% alcohol. Always wash hands with soap and water if hands are visibly dirty.
You can monitor the latest CDC updates at: cdc.gov.
Helpful COVID-19 Novel Coronavirus Resource Links:
Coronavirus COVID-19 Global Cases by Johns Hopkins CSSE
Introduction to Emergency Planning (for kids)
How to handrub with alcohol-based sanitizer.
How is the new coronavirus, COVID-19, affecting people who get it?
Why is it recommended to avoid close contact with anyone who has fever and cough?
Can masks protect against the new coronavirus infection?
What can people do to protect themselves and others from getting the new coronavirus, COVID-19?
Coronavirus – questions and answers, Jan. 16, 2020
Novel coronavirus, COVID-19, what do we know about it, Jan 31, 2020?
How to protect yourself when travelling during the coronavirus (COVID-2019) outbreak, Feb. 12, 2020.
How to protect against yourself from novel coronavirus, COVID-19?
Stop the Spread of Germs, COVID-19.
National Preparedness Month: Prepared Not Scared 30 seconds
FEMA: Emergency Safety Tips PSA
When the Storm Comes: Tornado Awareness and Preparedness
Prepping A Go Bag With Supplies In Case Of An Emergency: It's Scary Simple | FEMA
---
Sign up for our  Tornado Awareness Course. Select the below graphic for more information.
---
Mission
The Office of Emergency Management is responsible for the development and implementation of a comprehensive Emergency Management Plan. The purpose of this plan is to provide for an effective emergency management operation in Angelina County and the cities thereof in case of a national emergency, war, natural disaster, man-made accidents, technological accidents, or other major incidents. This Emergency Management Plan defines who does what, when, where, and how, in order to:
mitigate the effects of a hazard

prepare for measures to be taken which will minimize damage

respond during emergencies and provide whatever aid and assistance is necessary

establish a recovery system in order to return the community to its normal state of affair
History
Emergency Management in Texas dates to 1951, with the passage of the Civil Protection Act by the Texas Legislature. The Texas Disaster Act of 1975 created the Governor's Division of Emergency Management (DEM). The Emergency Management of today is a multifaceted comprehensive program for dealing with all large scale emergencies and disasters. The Mayor of each incorporated municipality and the County Judge of each county is designated as the Emergency Management Director for each political subdivision. As the Governor's designated agents, the Mayor and County Judge may exercise the powers, on an appropriate local scale, granted the governor by the Texas Disaster Act of 1975. They may also designate a coordinator (EMC) to serve as an assistant. Political subdivisions may establish inter-jurisdictional agreements to manage and mutually benefit from local emergency management programs.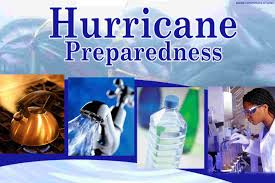 Hurricane Preparedness Information
---
Angelina County Flood Plain Management
Important Links