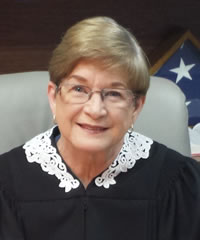 The Justice of the Peace Courts have jurisdiction over criminal (Class C Misdemeanor with fine only) cases and Justice and Small Claims cases where the amount in controversy does not exceed $10,000.00. The Justice Courts have jurisdiction over all Eviction Suits and Writs of Re-entry. Other duties include issuance of warrants for arrest, search and seizure warrants, and conducting administrative and magistrate hearings (bail settings, arraignments, and driver's license suspensions.) Justices of the Peace have jurisdiction on school attendance trials, hearings pertaining to mistreated animals, and health regulation violations and littering. They also perform marriage ceremonies and preside over coroner inquests.
Warning
Do not attempt to contact a judge – by mail, email, phone, or in person – about any pending or potential lawsuit or about any traffic citation.
Click Here for information regarding Ways to Pay Traffic Citations
---
Hours of Operation:
Monday – Thursday 8:00 am to 4:30 pm
Friday – 8:00 am to 3:00 pm
We are closed daily for lunch from 12:00 pm to 1:00 pm
We accept civil filings Monday – Thursday from 8:00 am to 4:00 pm
Friday from 8:00 am to 2:30 pm
We accept Cashier's Checks, Company Checks, Local Personal Checks, and Money Orders for Civil Filings.
Mailing Address:
211 North Temple
Diboll, Texas 75941
Contact
Phone 936-829-3535
Fax 936-829-3534
Staff / Email
---